WELCOME TO
THE BEECH AERO CLUB
The Official Type Club of the Beechcraft Musketeer, Sport, Super,
Sundowner, Sierra, Duchess and Skipper.
The Beech Aero Club (BAC) provides a wealth of services, information and events to promote the enjoyment of Beech Aero Center aircraft. These include a website loaded with technical information, ownership and maintenance clinics, newsletters, regional fly-ins and activities, assistance with maintenance and operational issues and so much more. BAC is the definitive information source for all things Musketeer!
Sound like something you want to be a part of? Join now and become a member.
How many times in life have you said to yourself, "Man, I wish someone had told me that 10 years ago!" Well, if you own a Musketeer airplane, you can get a big head start on learning what hundreds of Musketeer owners already know. Learn from those who came before you ... Get access to all the resources and fellow members this club has to offer you.
For $50/year you can access 16 years of:
Technical resources,
Live chat discussions and forums to ask questions,
Musketeer-centric classifieds for buying and selling,
Regional & national fly-in opportunities, many with maintenance clinics and ALL with good fun,
Ownership and maintenance guidance from experienced members and A&Ps!
Heck, you might spend that each time you go out flying!
Knowledge is power. As a member you'll learn all about your aircraft from the prop spinner to tail beacon. Take a bit of a tour of what we have to offer you.  Click on the Topics category boxes below to explore what each has to offer. As a member, you will have access to the most vast and comprehensive archive of Beech Aero Center/Musketeer information anywhere in the world.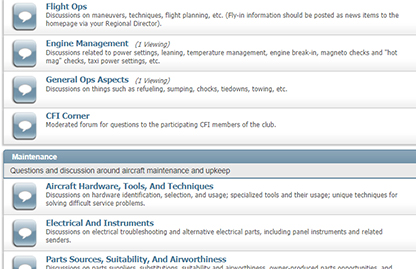 FORUMS
REGISTER TODAY...
for access to
every forum discussion
about your Musketeer.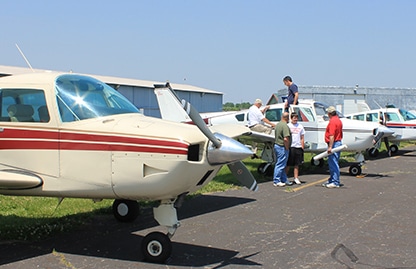 GALLERY
REGISTER TODAY...
and browse the entire
photo collection covering
years of flying & fellowship.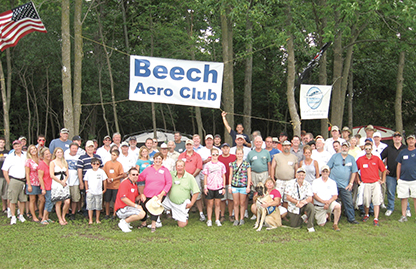 EVENTS
REGISTER TODAY...
to learn about the
what, when and where of our regional & national events.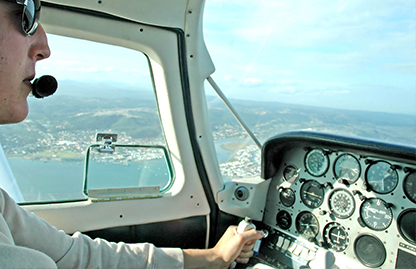 WHAT'S NEW?
REGISTER TODAY...
to see the latest forum
posts and offerings of the
Beech Aero Club online.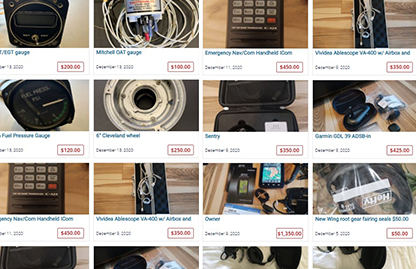 CLASSIFIEDS
REGISTER TODAY...
for access to great deals
on what's being sold by
members of the Club.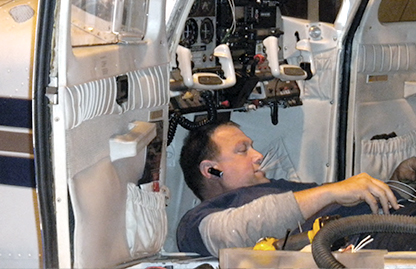 MAINTENANCE
REGISTER TODAY...
for 16 years of Ownership
& Maintenance resources
at your fingertips!!
CLUB CHAT
Want to ask a question?  Want to tell a flying story?
Want to join in on the conversations happening right now - live and in person!
You can participate in member discussions 24/7/365. Learn more, have fun, and make friends along the way.
As a member, you'll have access to this resource and so much more.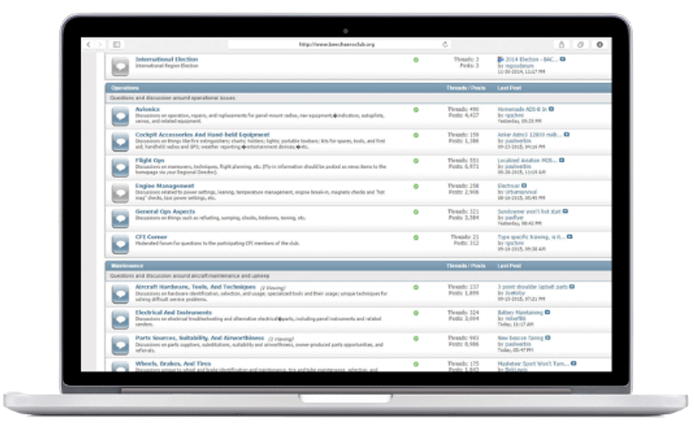 Ready to find out more? Or Ready to register?
We don't want to rush you. Take your time and explore all of these non-member preview pages. We hope they will show why joining the Beech Aero Club is such a great deal. But, hey, if you're ready now, go ahead and hit the "Tell Me More" button. You can register from there ... You AND your plane will be glad you did!