This is the documentation page for the new forums.  It is pretty sparse as it's late but we'll fill this in shortly.
Key Points
The new forums at at https://core.beechaeroclub.org/ .  If you go there directly you will have to login manually with your same site password as the main site if you haven't yet logged in.
You can also get a single sign-on (SSO) without a login by selecting the Forums from the menu.  If you haven't come into the site recently the auto-login may not work in which case just login fresh.  The autologin page can be reached directly at https://www.beechaeroclub.org/forums/ .
On the new forum site there are links back to the Main site and key areas under the Main BAC Site menu (leftmost).
The new forums are enabled for a progressive web application (PWA) which allows the forums to be installed as a simple, standalone application.  Look for the icon on the right end of the address bar in most desktop browsers. It will look slightly different on different browsers, click that: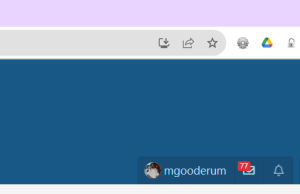 and then you get an Install Popup like: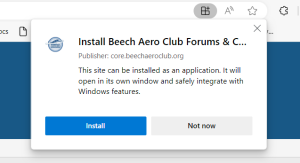 Click install and it will install as an app like standalone experience.
Known Issues and Gotchas
No direct message link or status in the profile bar.  We'll get this back but it will take come updating on the templates.  You can also get directly to the new private messages page from the first forum menu under Home -> Private Messages .
The existing what's new link is not updated from Xenforo.  For now we have changed the link in the header to take you to the Xenforo what's new.  In the near future we'll integrate the news feed and switch back so there's a combined feed of new items.
User registration, email and password changes are synchronized from WordPress to Xenforo.  Don't edit these in Xenforo as they will get clobbered.  We will update the templates for these to be non-editable on the Xenforo side in the near future.
User paid memberships should synchronize but I haven't had time to test after reconfiguring.  This was tested previously and configured per the process but haven't had time to retest.
Short term - the redirection for links from the old forum isn't yet working, this will get fixed later today.